THANK YOU FOR YOUR HELP!
My choir is running a fundraiser to raise money for new gowns and tuxes.
My goal is to sell 12 items!
Can you help me reach my goal?
We are selling gourmet fresh mixes, cookie dough, muffins, starbucks hot chocolate, soups and more.
Order online by clicking the blue button below.
FREE shipping if you select ship to school OR if you order over $75. Be sure to type in my full name at checkout so I get credit!
Orders & money are due by Sept. 6th. Feel free to order anything else from the online store as well, it all helps me!
Thank you for helping!!
OR...
When you help me I earn college tuition rewards points!
$100 Retail Sales = 1,000 Tuition Rewards Points ($1,000 value!)
$250+ Retail Sales = 2,500 Tuition Rewards Points ($2,500 value!)
The points help lower the cost of college tuition. For more info and a list of participating colleges and universities, visit
www.tuitionrewards.com/gao
Powered by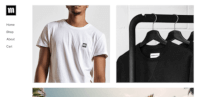 Create your own unique website with customizable templates.